What is DMX?
DMX, acronym of digital Multiplex, is a digital communication protocol that is used to control smart led lighting fixtures. It also refers to DMX512 which means 512 channels in total as one DMX universe. Originally released in the 1980s, being developed and used for a wide variety of lighting and other special effects.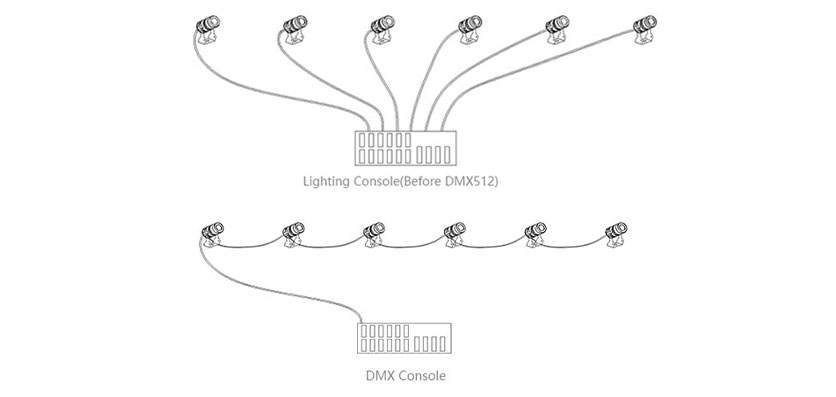 Before DMX, each lighting fixture would have to be wired and controlled directly from the lighting console with an individual cable. It required a lot of cables connecting from the console to the light fixtures, making the setup messy and pricey, it became a problem for large scale installations.
However, the release of DMX solved the problem perfectly, one single cable from DMX controller/console is enough to operate all the functions of every fixture under the same daisy chain. The signal of DMX is actually unidirectional, that is to say it only takes the trip in one direction, from the DMX lighting controller to the very first DMX led light fixture and all the way to the final fixture.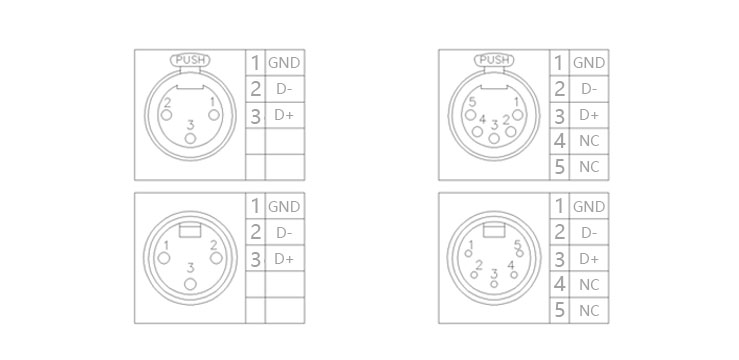 DMX Wiring
The common connector used for DMX wiring is 3 Pin or 5 Pin XLR, the Neutrik brand are most favorite. 3 Pin ones are more often to be used in practice than 5 Pin, because of Pin 4 and Pin 5 of 5 Pin XLR connectors usually not used in most cases. But some lighting manufacturers use Pin 4 and Pin 5 as DC power input integrated with DMX signal (Pin 1, 2 and 3) for easier cable connection. The DMX out ports of lighting control units should be XLR female, while DMX in ports should be XLR male.
Theoretically speaking, the maximum distance of DMX lines can approximately reach 1000 meter to 2000 meter, depending on the quality of the cables. Besides, each DMX line will support 32 DMX lighting devices at most.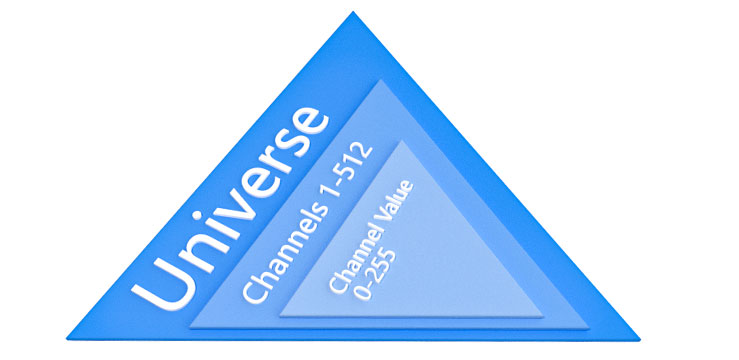 What is a DMX universe?
DMX, also called DMX512, control as many as 512 channels. A DMX universe is the output of 512 channels from the DMX lighting controller or console. When an installation use out first universe of 512, another universe of 512 will be required.
What is a DMX channel?
Each universe consists of 512 unique channels, such unique channel is assigned to control the features of the lighting fixture such as color changing, waving, chasing, dimming, strobing, pulsing, power surging and a lot more. What's more, each individual channel has a data value of 0-255, which was initially used to control the lighting output from 0 to 100%. In modern days, the lighting professionals not only use the 0-255 data value to control the intensity, pan and tilt but also a wider range of other features.
What is A DMX address?
A DMX address is the location of a DMX channel where the lighting fixture starts reacting to DMX signal. After setting address to the certain light, the light will respond to any signal sent to this address. In order to control every fixture independently from thousands of fixtures of large scale of installation, each fixture must have its own starting address that is different from other fixtures used in the same DMX universe.
How many DMX address does a fixture have? It depends on the parameter of the fixture itself, if it is a 1-channel fixture (like single color led fixture), it will have only 1 DMX address. The common multi-channel fixture like our DMX RGB pixel balls, they will have 3 DMX addresses, while RGBW ones will have 4 DMX addresses.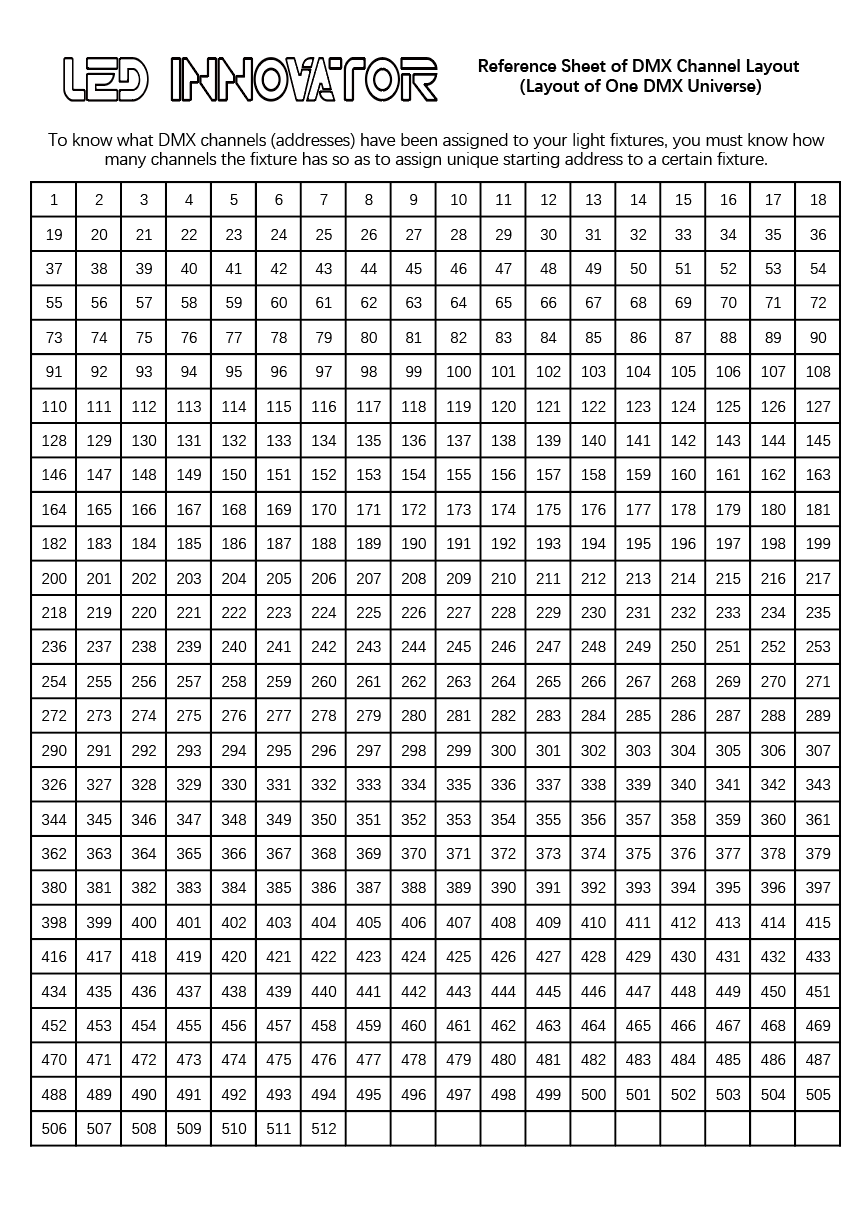 What is a DMX controller?
DMX controller is a gateway for the lighting professionals to activate their lighting setups, to send specific DMX messages to trigger the lights.
There are three major types of DMX controller
1. Software based DMX controller, which is operated by PC.
The user can do the pixel mapping and programming with the DMX lighting control software on the
computer to create an inspiring lighting show, such as the Art-Net Node from us.
2. Hardware based DMX controller (standalone DMX controller).
Such controllers are mostly used for small scale lighting installation, they don't connect to a
computer such as the favorite K-1000C SD card led controller.
3. Hardware and software based DMX controller
The controllers that can operated by PC or work standalone.